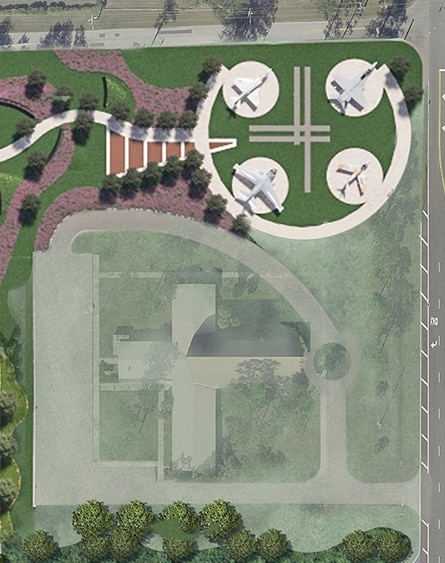 Construction is ongoing for Phase 1 that will recognize and honor all who served at NAS CECIL FIELD MASTER JET BASE (1941-1999). The site plan for Phase 1 includes construction of the jet display area with runway replicas, walkways, benches, lighting, and the Benefactor Plaza with the memorial bricks. While we have been delayed with construction onsite due to a water main relocation, there has still been significant work and efforts ongoing behind the scenes:
JET DISPLAY AREA
The jet display area consists of four aircraft (consistent with aircraft that were stationed at NAS Cecil Field) on static display within a scaled replica of NAS Cecil Field's runway. There is significant coordination and work efforts to locate, acquire, restore, and paint the aircraft to get them ready for display. If you have been to the site or recent events, you have seen the first aircraft completed, which is on display now (the A-7 Corsair). All the aircraft and their status are listed below:
A-7 Corsair (BuNo 153150) is currently onsite, fully restored and on display
F/A-18 Hornet (BuNo 162462) has been acquired and is in the process of being restored by Boeing for display onsite
S-3B Viking (BuNo 159746) has been acquired from NASA, ready for display, and scheduled to be transported by Crowley from its location to the Phase 1 site by the end of summer
A-4 Skyhawk is in the process of selection and acquisition
MEMORIAL BRICKS
Over three hundred memorial brick pavers have been ordered and have been received and secured onsite. The bricks have been inventoried, sorted, and are being prepped for layout. They will be placed within the Benefactor Plaza during Phase 1 construction. There is still time to order a brick in time for our next order. If you would like to purchase one, please visit our website at: https://powmiamemorial.org/support-the-memorial/memorial-brick-campaign/
Thank you to everyone for your patience and support as we continue our efforts to establish a National Memorial to honor, remember, and never forget our POW/MIAs and the ongoing efforts for the fullest possible accounting.