Article Originally Published in Liberty Life Magazine, January 27, 2021
On August 2, 1990, Iraq invaded and occupied Kuwait, a move unsupported by dozens of world leaders. The result, five days later, was the commencement of Operation Desert Shield and a U.S.-led coalition of 35 nations, with the goal being to liberate Kuwait. With the start of the air war on January 17 of the following year, the operation evolved and became Operation Desert Storm. A mere 42 days later, on February 28, 1991, coalition forces retook Kuwait City, successfully liberating the country. Hostilities ended when then- President George H.W. Bush declared a cease-fire.
According to the National POW/MIA Memorial and Museum's website, the participation of The Liberty Coast military community during the first Gulf War included at least 27 military aircraft squadrons, 14 naval and Military
Sealift Command ships, and many Sailors, naval aviators, support personnel, staff, and medical detachments.
The impact of the war was immediately felt locally, as the first reported casualty was a Jacksonville resident and FSU graduate: Michael "Scott" Speicher. Then Navy Lt. Cmdr. Speicher's F/A-18 was shot down during his mission to suppress enemy radars in advance of air raids. His true fate and impactful odyssey were not known until 2009 when his remains were located and returned to Jacksonville. Liberty Life will share that intricate story in a later issue.
As we approach the 30th anniversary of the end of Operation Desert Shield and Operation Desert Storm, the Cecil Field POW/MIA Memorial is hosting a remembrance ceremony on Saturday, Feb. 27. The ceremony will be held at Cecil Commerce Center in the Chapel of the High-Speed Pass. Thanks to the Navy and generous support of Jacksonville-based, pro-military companies, a highlight of the tribute will be the organization's first display aircraft: an A-7 Corsair II, a "light attack" bomber flown from aircraft carriers.
Landstar System, an international transportation company headquartered in Jacksonville, Fla., retrieved the A-7 from Arkansas. The folks at Flightstar Aircraft Services transformed the very weathered aircraft into a shiny, restored warplane. She will wear the markings of VA-174, which was the longest-serving squadron at Cecil Field. The tribute will include the dedication of the new Aircrewman Memorial and the Gold Star Families Memorial, providing a place for families, shipmates and visitors to remember and honor those who did not come home.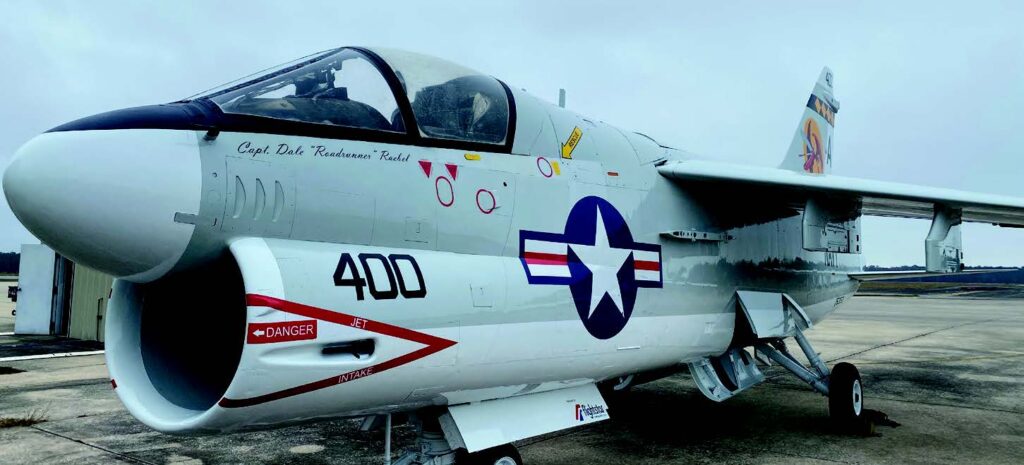 The volunteers and supporters of the tribute have adapted to the realities of the pandemic and instituted the recommended precautions. For complete tribute details, including the BBQ luncheon, visit POWMIAMemorial.org/Events/Commemorating-the-30th-Anniversary-of-Desert-Shield-Storm/