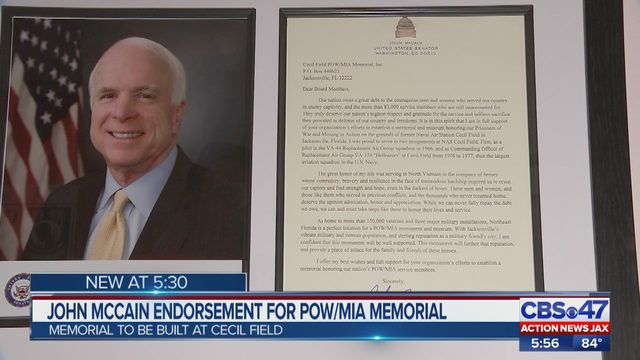 The "Cecil Field POW/MIA Memorial" is a group of veterans and community leaders working to erect a 26 acre memorial for military service members who remain missing.
The board received a letter endorsing their work from the late Sen. John McCain in early 2017. 
There are more than 83,000 service members who are still unaccounted for said Chaplain Pat Archuleta, who read the letter aloud. 
 McCain's legacy runs deep in Jacksonville. His words sprang off the page and into the beating hearts of those tasked with keeping his dream alive. 
"…I am in full support of your organization's efforts to establish a memorial and museum honoring our prisoners of war and missing in action on the grounds of the former Naval Air Station (NAS) Cecil Field in Jacksonville, Florida …" Archuleta read. 
 The chaplain explained that McCain, who was twice assigned to NAS Cecil Field, gave them his vote of confidence. 
"I guess we could say he was the spark plug," Archuleta said. 
Their visions were aligned. McCain was a prisoner of war at the infamous "Hanoi Hilton." During that time, his wife and three children lived in Orange Park, hoping he would return. 
The senator's support solidified this group's efforts to bring a replica USS Saratoga, a 150,00-square-foot museum, and more to Cecil Field to honor prisoners of war and those missing in action.
Archuleta described a collection of planes to be installed on the property. 
It would be "a static display where they will have the four different aircraft that actually flew out of Cecil Field when it was a master jet base," he said. 
 Archuleta said McCain's words solidify his legacy and call to action.  
 "I believe, he believed, that this is a great country and he wanted to serve our country, so yeah, true hero to me," he said.
---
By: Ryan Nelson , Action News Jax